Half Day Tour of Connemara
Due to time being slightly against you then a half day tour of Connemara is perfect for your. Taking anywhere from 4 to 6 hours depending on where in Connemara you would like to tour. From Galway City to reach the furthest point away in Connemara is approximately one and a half hours so you will see most if not all of Connemara. As a result the amount of points of interests that a tour would consist of would be less than a Full Day Tour of Connemara due to the time restrictions. As we state with our day tours – it all depends on what interests you most. Do you enjoy Irish Castles? Or picturesque wild landscapes – please note that Connemara has both of these! A quick stop for lunch in a rural Irish Village?
A drive through real Connemara by which we mean off the beaten track which will give a true glimpse of what it was like to live in Connemara 50, 80 and over 100 years ago. We often take a spin around Camus which is a hidden gem in Southern Connemara. Our customers often comment that these are the areas they like best and we are only too delighted to bring them!
Connemara Half Day Tour
Don't be fooled into thinking you will miss out by only taking a half day tour of Connemara, as you certainly won't be. As we stated the only difference between the half day tour and the Full Day Tour of Connemara is the amount of main attractions you'll be able to visit. Some visitors insist on extending their tour to see more of the wild rugged country side and are blown away as they travel the Sky Road of Clifden – the capital town of Connemara. Something will catch the eye of the traveller and we're off to another spectacular destination. There are so many roads to take that one moment you will be travelling towards Galway City and the next moment you are driving into inspect the stunning grounds of Ballynahinch Castle Hotel.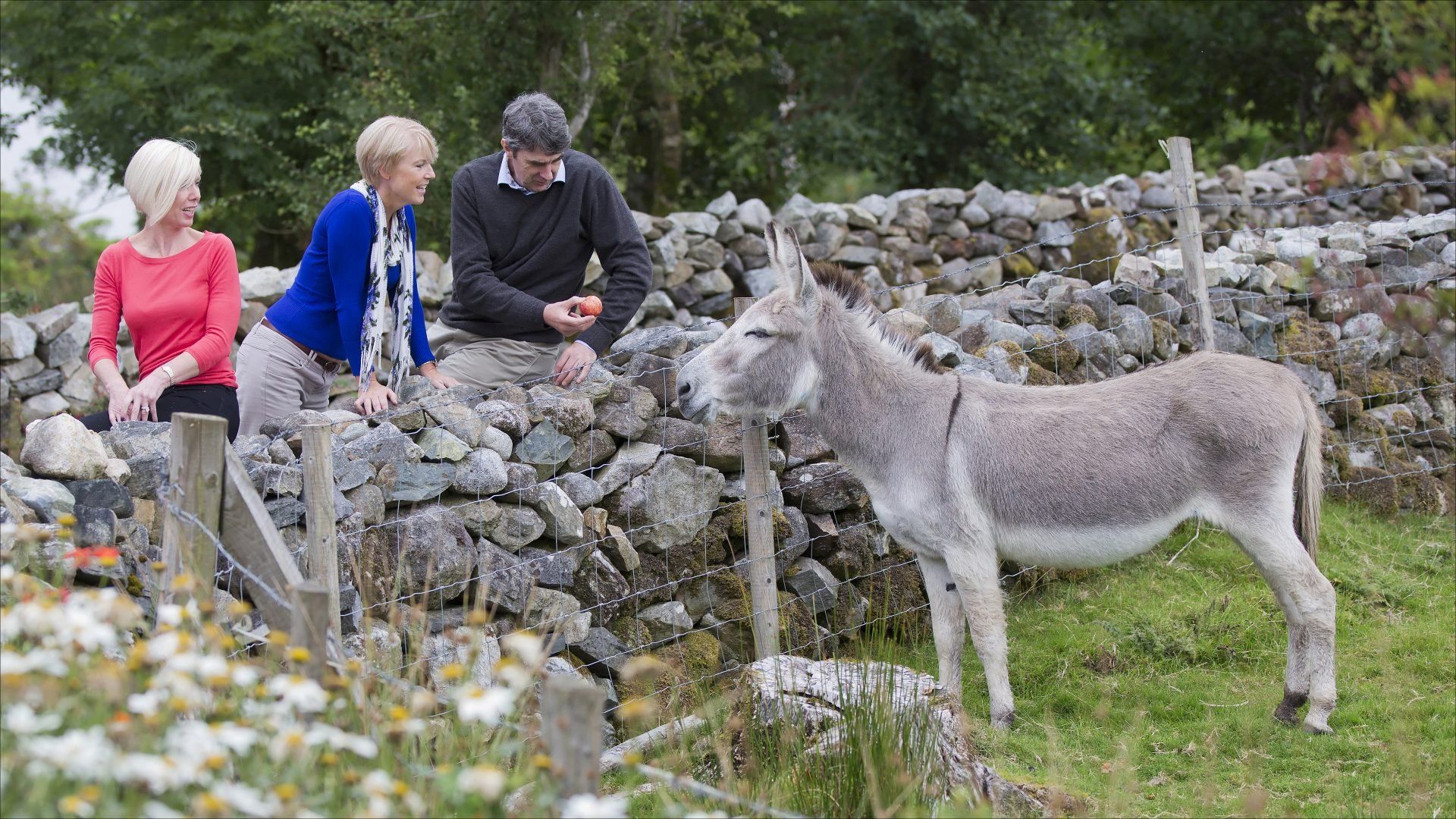 Contact Galway Chauffeurs Regarding Your Half Day Tour Of Connemara
Private Half Day Connemara Tour
To give you an idea of what a half day tour could be like imagine traveling out of Galway City towards Oughterard. Your first stop could entail a visit to Aughanure Castle. After that a photo op at the iconic Quiet Man Bridge. Continuing on a quick stop to take a picture at the Quiet Man Bridge on the way to Maam Cross. From there an absolutely beautiful drive through the rugged Connemara landscape with the Maam Turk Mountains on one side and the Twelve Pins on another.
Towards the post card picture village of Leenane and the stunningly view of Killary Harbour and on to the fascinating and beautiful Kylemore Abbey which is almost mandatory on any tour of Connemara! After spending a little time wandering the walled Garden and the house at Kylemore we would continue on to the Capital town of Connemara, Clifden via the world famous Sky Road which can only be described as stunning. Finally after all this we would take the drive back to Galway through the beautiful Southern Connemara landscape after stopping in Clifden for a leisurely cup of tea or coffee or even a bite of lunch.